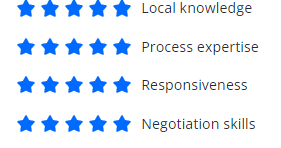 01/21/2022 - Rachel Simonson Bought a Single Family home in 2022 in River Vale NJ.
Local knowledge 5 star
Process expertise 5 star
Responsiveness 5 star
Negotiation skills 5 star
Jeff was amazing! He really listened and understood what we were looking for. He found the right house for us and helped us through the whole process! Jeff is friendly and made us feel comfortable from the beginning, even in this tough market. We highly recommend him!
Highly likely to recommend
eff had previously helped us purchase a home when we relocated to New Jersey and we where extremely pleased with his service so we naturally contacted him to list and sell our home when we decided to relocate out-of-state. His knowledge and expertise resulted in a quick and stress-free sale. Jeff genuinely cares about his clients and I would recommend him to anyone who is buying or selling a home.
Highly likely to recommend | 5.0
Jeff is one of the best realtors in our area. Super knowledgeable, compassionate and so patient. I would HIGHLY recommend Jeff to anyone looking to purchase a home. He treats you like family.
Sold a Single Family home in 2017 in Pearl River, NY.
eff Shapiro was very attentive to our parents' needs. He was prompt with any questions that they had or that we had regarding the house, and he returned our calls promptly. Since our parents are elderly, he was very forthcoming--bringing materials to them for their signature. When my mother had questions regarding the sales procedure, he answered her questions in a timely succinct manner that would be understandable for her. All in all the experience we had a very positive experience, using Jeff Shapiro as our agent.
Sold a Single Family home
Jeff's unflagging availability, good natured approach to our demanding and extremely narrow home search, and constantly surprising initiative in solving constant time-sensitive issues. I am beyond appreciative to have had his expertise in selling our previous house, and finding our new home!
It was also a bonus that he loved (our) cats!
Bought a home
If you are looking for a realtor, look no further. We met Jeff serendipitously through a realtor.com inquiry. There was a house we were interested in and he happened to represent Coldwell, who represented the sellers. In the end we passed on the house, but we liked Jeff so much that we asked him to be our agent in the home buying process. We had so many concerns since we were first time home buyers. Jeff walked us through the process step by step, sending us his personal guide to home buying and spending a lot of time explaining everything thoroughly and clearly to us. With Jeff, we never felt rushed- whether it was looking at homes or putting in an offer- there was never any pressure to do anything we weren't comfortable with. In the end, we looked at over 30 homes and put in three offers before we found our perfect home. For one offer we put in, we were outbid and we were disappointed but Jeff assured us there would be something even better. So the next house we found, we were super eager to get the house be done with. When the seller's agent countered our initial offer with something much higher, we started to consider it. Jeff jumped in and said, you know, I think that's too high. I think you should wait. And he was totally right. The house needed a lot of work and the counteroffer was way too high. Jeff kept us in check with his experience and expertise. Thank goodness we passed on that home because after that, we found the home of our dreams. It is perfect. No work was need on the house and it suits our family's needs perfectly. He negotiated a really great price for the home and we are very very happy with how it all turned out. Needless to say, the home buying process is a process. There's ups and downs, but Jeff will guide you through it every step of the way. He is knowledgeable, honest, trustworthy, diligent (he always sent us new listings as soon as they were available and made appointments right away) prompt (always early to meet us and replies to calls/texts/emails in a timely manner), and just a great guy. He made sure all our utilities were set up and came by to check on our family on moving day- really above and beyond. He is also a USAA certified agent if you are working with USAA. If we ever need anything in the future, no doubt, we will go with Jeffrey Shapiro again
Bought and sold a Single Family home
Jeffrey Shapiro was wonderful. He was the most helpful realtor I've ever met. He was there to give great advice, assistance in every area of moving, and was always available when needing to have questions answered. I would recommend him to anyone selling or buying a home.
I love Jeff
Jeff is an excellent real estate agent who provided 100% customer service through the entire process. This was our first purchase and we were extremely nervous. He walked us through the whole process, going above and beyond to get us our dream home. He was very supportive, and well versed in all things real estate. Best real estate agent my family and I could ever ask for! Simply amazing!
Bought and sold a Single Family home in Cresskill
Jeff is the most conscientious real estate agents we have ever worked with. He is on top of everything going on in the market and guided us in the right direction in all four of the homes we have bought and sold with him. He always returned calls, and showed up on time, which is more than I can say for some of the agents that were on the other side of our deals. He was up front about pricing, so he didn't waste time with empty promises in order to get our listing. He is honest and forthcoming, and we could not have been happier. Thank you, Jeff, for making the process so pleasant.
Bought a home in Demarest
Jeff has been very helpful with our first home purchase in the US. He is very knowledgeable about the market conditions and neighborhoods. He walked us through the process and paperwork and he was very patient! He was able to understand our needs quickly and created the showings accordingly. He is very friendly and approachable, he was our go to person with anything during this process. He is also well-connected with the other agents. He was able to refer other services as well; attorney, insurance, home inspector etc. For someone who is foreign to the market, this was a big help. Thank you Jeff:)
First Time Home Buyer
We purchased our first home with Jeff's help and We couldn't be happier with the job he did. Before We met Jeff i was working with another realtor and saw about 13 homes and nothing I was about to give up until my cousin refer me to Jeff. we only saw 3 homes with Jeff and today one of those 3 houses it's ours.. Jeffery Shapiro went above and beyond to help us. He is berry knowledgeable and is able to provide sound advise, especially for first time home buyers. There so much good things I can say about him but I don't think it would fit in here lol... I'm so glad and thankful we met Jeff, I'll gladly work with him again and would recommend him to anyone looking for a amazing agent
Relocation
I am recently relocated to USA. I managed to buy a house with extra-ordinary support and advice from Jeff for a new comer like me with his solid real estate knowledge and experience as a Realtor. We managed to find a suitable house within my budget meeting our requirements after few house visiting around New Jersey cities and did closing of new house within 2 months. All process went very well from house hunting to closing and other processes thereafter. Very Well Done Jeff! Thank you for sharing your good knowledge, experience and guiding us throughout the process - this is truly appreciated from our heart. Mahesh and Renuka
Englewood Buyer
Jeff was outstanding! Under a tight timeline, Jeff helped us identify homes meeting our criteria, then helped us navigate the local purchase process. I recommend Jeff without any reservations.
Sold a Single Family home in Cresskill
Jeff was there for us at each phase of the selling process. He knows the local market well and was able to guide us easily through some of the twists and turns. We appreciated his expertise and would recommend him highly.
Sold a single Family home in Harrington Park
Jeff is my agent who helped me successfully sold my house recently. I was grateful to Jeff's dedication and hard work. Jeff is very knowledgeable about the area and the house features. He is excellent in presentation and introduction to the clients. Jeff has established himself as an Realtor, he has a broad network and works effectively. I have enjoyed very much working with Jeff to go through the sell of my house. Jeff is one of the best Realtors I have ever met.
Sold a Single Family Home in Closter
I met Jeff five months ago when I walked into my local Coldwell Banker in Closter looking for an agent that was recommended to me, but I could not remember her name. Meeting Jeff made all the difference in getting my house sold quickly and in a timely manner. What makes Jeff a special person is his honesty, his kindness, his integrity and his willingness to help anyone he meets. He makes you his priority and always has your best interests.
Here I am, a widow wanting info on how to best get my house (that I have lived in for nearly 40 years and have accumulated "stuff"), ready for the market. That did not scared him off. Instead, he told me that he would have a look and (even if I did not use him), he would be happy to advise me on what I needed to do. The rest, as they say, is history. Jeff just took charged and got me all the right persons to fix whatever needed to be fixed and kept telling me along the way, "that it is what it is". Even got me a dumpster. He came on short notice with his tool kit to install a smoke detector and a fire extinguisher. He ordered my moving boxes, even helped me packed the first box, just to get me started. He knew how reluctant I was in moving and how attached I was to that house. He helped me find the movers. Brought me extra boxes and gentle guided me through the sale and now I am living in Florida and enjoying the great weather (although it got pretty cold recently), all thanks to Jeff. I could not have done it without his know-how and help and even after the sale, I am still seeking his opinion and help.
I am, therefore , highly recommending Jeff Shapiro to anyone looking to buy, sell or rent a house. I know I shall be calling Jeff if I ever have need of a real estate agent again. Thanks Jeff and good luck in the future.
Buyer in Cresskill
There are not enough good things to say about this man. This man makes you feel like you are family. He will not steer you wrong. He is excellent at working with what type of home you like and what you can afford. I can guarantee you will find your dream home with him. He is very knowledgeable. You are in good hands with him he is patient and attentive really knows how to listen and is there to help and is genuinely interested in insuring you get exactly what you want
River Edge Buyer
From the second we started the process til now which is two month after we moved into the house Jeff has been there every single step of the way. As a first time home owner I obviously had tons of questions, Jeff took the time and answered every one of them as well as made sure everything was explained and I understood. Our house was a short sale which we were warned was gonna be a nightmare but Jeff was there the entire time basically walking us threw every step. I couldn't imagine another broker being as patient and personable all the while remaining the definition of professional.
When the time comes to sell or buy anything new you can bet your house i'll be calling who I now call my friend Jeff to help me out!! He's still helping us find workers for things we want to change about the house two months after the deal was all done. and thats all out of his full service services he provided us with the entire time!
I wouldn't use anyone else period!!
Englewood Seller - Alpine Buyer
Jeffrey shapiro was always there for me with his spot on knowledge,he helped sell my previous home and found me a beatiful new one.
I highly reccomend him for all your real estate needs.